Moving Towards Mastery: 14 Layouts to Challenge Your Handling
16 Feb 2016Steve Schwarz
As I mentioned in my previous article: "Move Obstacles to Challenge Your Handling", you can take any sequence and move the jumps (along with their numbers) to change the handling challenges. It's still the same sequence but now you've got a new course with new handling challenges!
I think this is such a great way to push your training, especially in a small space, that I spent the past week updating the software on the agilitycourses.com website to automatically create 14 different Jump Box Box/Hobday Box/Jump Box/Jump SquareDo It Yourself Box Jump SequencesDouble Box Sequence GeneratorJump Box DrillsDouble Box SequencesNew Jump Box Sequence GeneratorJump Box Drill GeneratorStar Box SequencesStar Box Sequence GeneratorThe Jump Box in Course Design layouts for every jump Box sequence!
Imagine you selected the skills you wanted to practice or made up your own sequence and ended up with this Box sequence: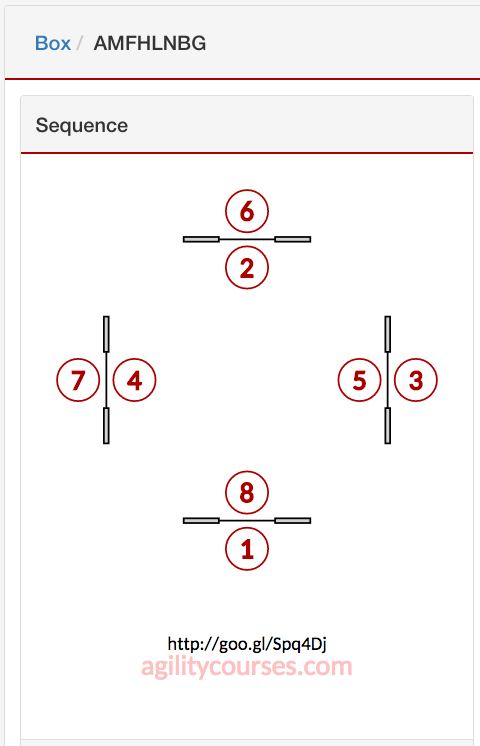 The obvious challenges are moving the jumps as far apart as your practice space allows and then moving them to minimum jump distances. The website does that for you, it generates the same layouts with larger and minimum spacing between the jumps: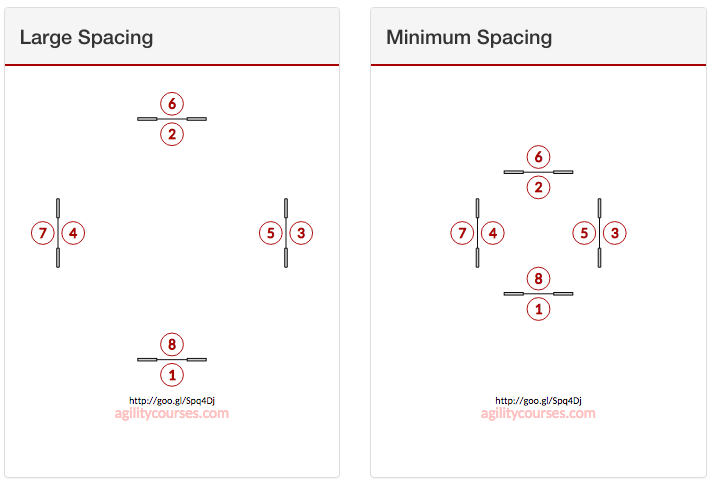 By the way I don't put distances on the sequences for this very reason; when you change the distances between jumps anywhere between 15 feet (5m) and 30 feet (9m) you'll find the challenges change along with the distances! But if you need distances I default to 20 feet (6m) between jumps in the basic box layout and the other layouts are shown in a 40 foot by 40 foot (12m by 12m) space so they aren't too small to read. Always adjust the layouts for safety!
The next variations move the side jumps up and down while leaving the top/bottom jumps changes 270 Handling 270 Degree Jump SequencesBack Side Entry to 270/Training Opportunity - Video270 Degree Jump Sequences to Back Sides Handling the Quad Back Side - Patrick Bucher Course/VideoThe Connection Between Threadles and Back SidesBack Side/Back Side JumpBack Side of Jump Handling Combinations - Video and you'll be moving to get there too!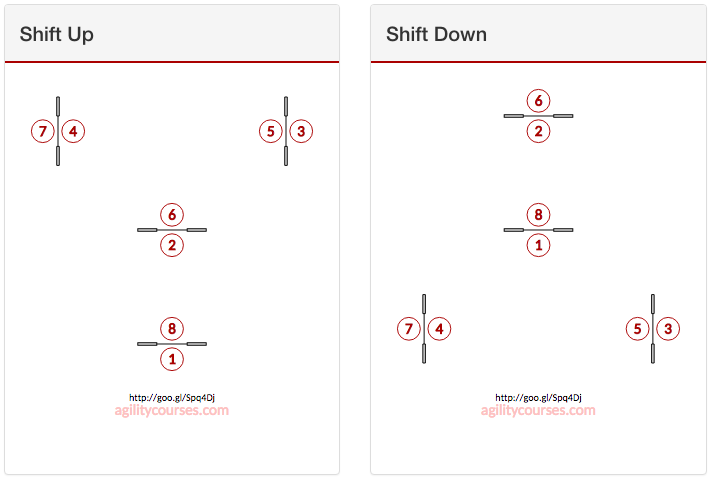 The next variation moves the top and bottom jumps to the right or left and changes some 270s to long Back Sides and others to Threadles Mary Ellen Barry on Threadle HandlingThe Connection Between Threadles and Back SidesSingle Sided Threadle HandlingTraditional Threadle HandlingThreadle Sequence: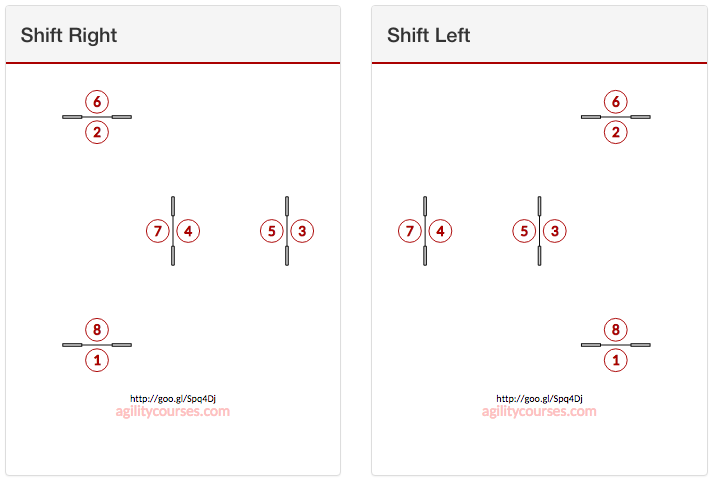 Moving the top and bottom jumps to the opposites sides makes a "stair step" like layout. This changes the simple straight lines between the top and bottom jumps into great Snooker practice!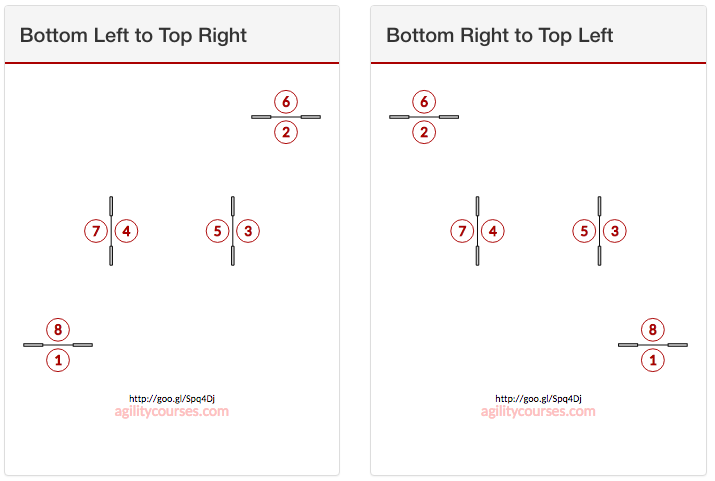 Next the website slides the jumps so they line up on the center of each bar; giving a good Jump Wrap Jump Wrap Handling TipsJump Wrap Handling - With VideoJump Wrap/Wrap workout: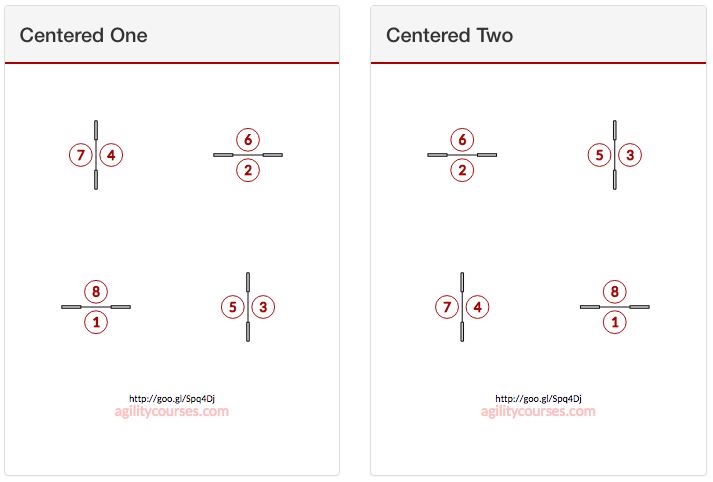 We're still not done… It next rotates the top and bottom jumps make sure you add in some Threadle Mary Ellen Barry on Threadle HandlingThe Connection Between Threadles and Back SidesSingle Sided Threadle HandlingTraditional Threadle HandlingThreadle Sequences: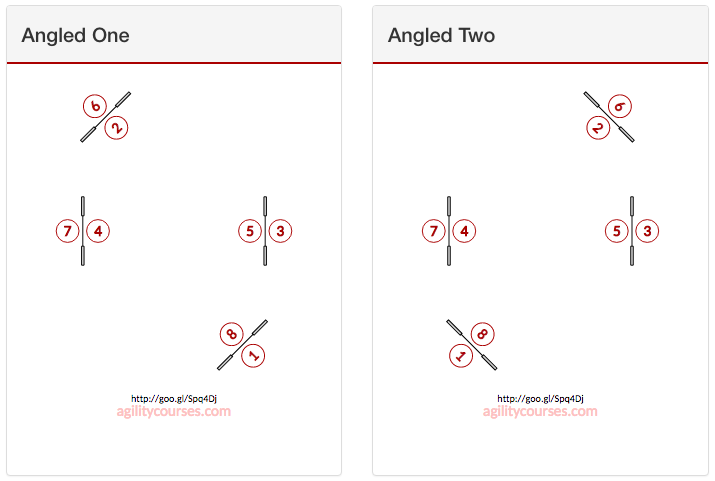 Lastly the top and bottom jumps are both rotated and slid to the same side to work a wide range of skills: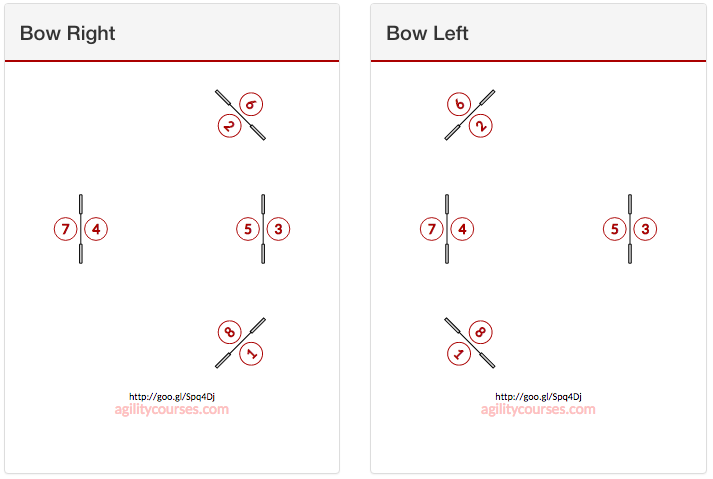 Here is link to this example page with the layouts and sixteen different dog paths through the sequence that you could work on.
Use the agilitycourses.com Box page to find or create your own practice sequences!
I'll keep saying it: by moving the obstacles around with the same sequence it will push you out of your comfort zone, you won't just find a different sequence with challenges you know how to handle. It'll have you combine handling "moves" in ways you haven't tried before, and make you really think about how you are going to handle it.
I hope you have as much fun training with these new layouts as I did creating them for you!
If you enjoyed this article won't you please:
Thanks!
Related Articles: