Blind Cross to Ketschker on Dana Pike Course
17 Nov 2012Steve Schwarz

Meeker,

Flyer

and I were at The Farm for Dana Pike's class the other night and the opening of her course had an interesting Back Side Handling the Quad Back Side - Patrick Bucher Course/VideoThe Connection Between Threadles and Back SidesBack Side/Back Side JumpBack Side of Jump Handling Combinations - Video Jump Wrap Jump Wrap Handling TipsJump Wrap Handling - With VideoJump Wrap/Wrap. After running hard for a couple days last week at a

Silas Boogk

seminar I was ready to take risks and go for the fastest way I could think of to handle the opening. After some thought it looked like a good place to use a Blind Cross blended into a Ketschker.

I put color coded handler/dog icons and some description in the following diagram of Dana's course to help demonstrate this handling approach:
Blind Cross to Ketschker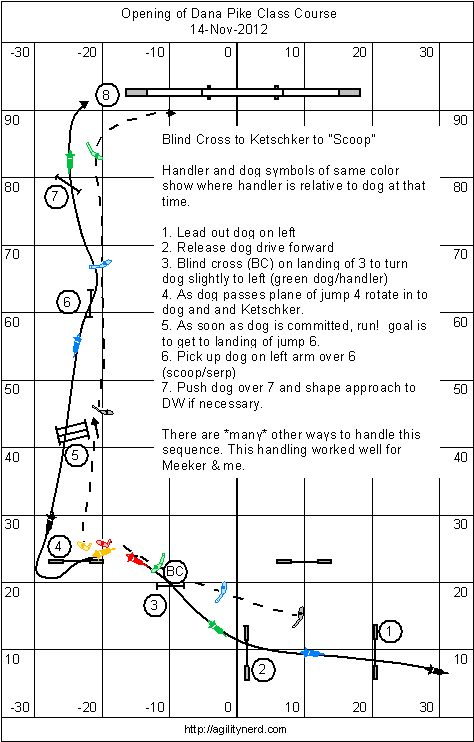 Obstacle Legend
It was a blast and worked nicely - I was just fast enough to pull it off and make it to the landing of 6 to Scoop Meeker over the jump. It is a lot of fun to run a course and go for it!
If you enjoyed this article won't you please:
Thanks!
Related Articles: