Flyer and Steve in the 2016 AKC NAC Finals - Video
22 Mar 2016Steve Schwarz

Flyer

and I ran the AKC National Agility Championship Finals round course clean with a competive time; only we weren't in Tulsa, OK! The great folks at Canine Sports Zone in Middleton, WI had a wonderful idea: for the Saturday and Sunday of the NAC they setup two of the courses run in Tulsa each day and had a fun match! They even gave out cash prizes to the teams who ran all four rounds with the highest score in each height division. To make it even more fun they had a ton of food, a potluck, a raffle with lots of great prizes, and, to top it off, they live streamed the NAC. They also offered Mulligan runs afterwards so you could train your dog(s) or try out other handling ideas. A brilliant and fun idea!

All the courses and the official AKC results are posted AKC NAC Results site. I liked the courses I saw, I heard some folks say they weren't as technical as some previous years, to my eye they had flow and each had a couple interesting technical sections.

In WI they ran the Round 3 Hybrid course and the Finals courses on Sunday, the day we were there. Here's the Hybrid course: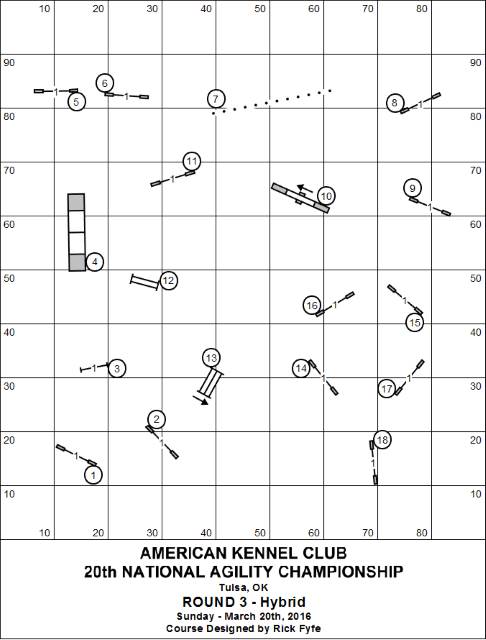 The Hybrid course had a couple spots that gave folks problems: 5-6-7 and going through the Box The Jump Box in Course DesignBox/Hobday Box/Jump Box/Jump SquareDo It Yourself Box Jump SequencesJump Box DrillsDouble Box Sequence GeneratorDouble Box SequencesJump Box Drill GeneratorNew Jump Box Sequence GeneratorStar Box Sequence GeneratorStar Box Sequences 14-15-16-17. Otherwise it was pretty smooth, fast, and straight forward; that being said I still managed to pull Flyer off jump 9 in my hurry to drive to the teeter and he dropped the bar at jump 16 even though I was done with my Front Cross Front CrossLearning the Front Cross and was out of his way… Sometimes things happen.
We didn't set up the Challengers round, but did see it on the live stream after we were done for the day, and it looked like it would be fun to run. I think I can squeeze in the most interesting section, 6-16, at home! Here's the course: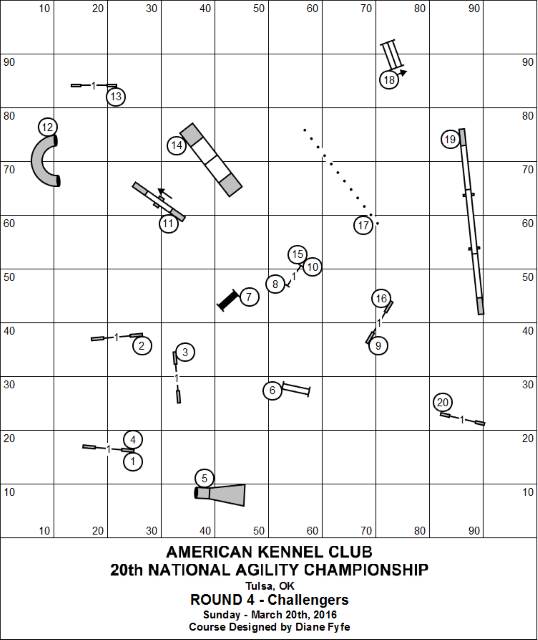 So we pretended that we won out of the Challengers round :) and ran the Finals course: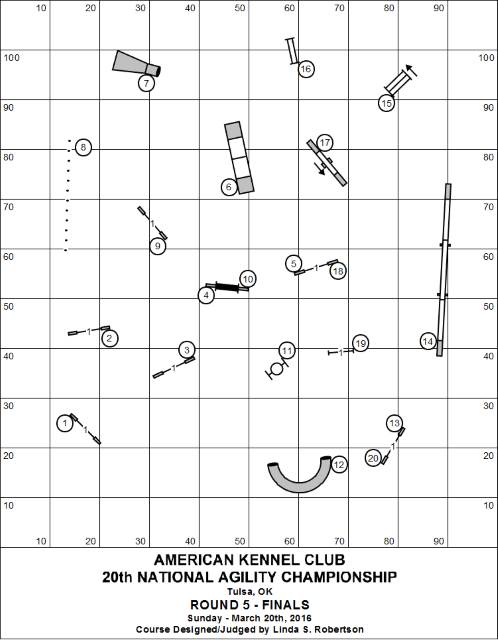 I really liked the Finals course. Especially interesting were the options for 1-6. The posts at CSZ caused jump 3 to be moved slightly for safety. When I saw the Finals on the live stream after I got home from the fun match I don't recall seeing anyone else Blind Cross over jump 3; for our course setup it worked quite nicely. I also liked the Push to the Back Side Back Side/Back Side JumpHandling the Quad Back Side - Patrick Bucher Course/VideoThe Connection Between Threadles and Back SidesBack Side of Jump Handling Combinations - Video at 18 and then "Serping" across the jump and picking Flyer up on my left as we went down the line for 19 and 20. I was pleased to see it looked faster/smoother for the few folks running it that way in the real Finals too! Here's our effort on video:
So you can't compare our run on turf in a fun match to running on dirt in the intensity of the finals at a National competition. But we sure had fun! After everyone had run both courses we were done early enough to watch the Challengers round on the live stream. Then it was time for me to pack up and head home. When I got home it was fun to watch folks run the Finals course after I'd run it to see how they handled the challenges differently.
This year will be the first year I'm going to try to qualify a dog for the AKC NAC. In 2017 it will be in Perry GA which is a lot closer than USDAA's Cynosport in Scottsdale, AZ. If we don't qualify we certainly are going to run the NAC courses with the fun folks at Canine Sports Zone! I strongly recommend you get a group of friends together and have your own NAC fun match!
Related Articles: