Advanced/Intermediate Classes: A Mixed Bag - 03-Mar-2011
03 Mar 2011Steve Schwarz
Here's a course setup with two different sequences containing 270s Handling 270 Degree Jump SequencesBack Side Entry to 270/Training Opportunity - Video270 Degree Jump Sequence, Jump Wraps Jump Wrap Handling TipsJump Wrap/WrapJump Wrap Handling - With Video, Pull Throughs, Threadles Mary Ellen Barry on Threadle HandlingThe Connection Between Threadles and Back SidesThreadle SequenceSingle Sided Threadle HandlingTraditional Threadle Handling, a Pin Wheel, and general handling from my Advanced and Intermediate classes this week at For Your Canine. I'm afraid I'll have to leave the handling options up to you this week… let me know if you have any questions.
Advanced Class Sequence
Can you handle this without any Rear Crosses Learning the Rear CrossRear Cross? Or a single Rear Cross on the take off of 19, to turn your dog around the 270, assuming your dog is on your right starting at 17? Robbie and Hank did a Backy-Uppy after wrapping jump 16 so she could handle 17-20 with Hank on her left.
Being able to Rear Cross a jump when you approach it from straight on the side is a nice skill to have!
Intermediate Class Sequence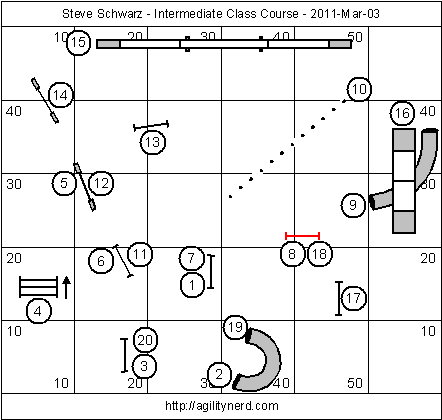 It is important to move jump 8/18 so dogs aren't tempted to take the A Frame sideway when coming from jump 7! I broke this course down into 1-9, 9-15, and 16-20 with my intermediate group. We worked each section and then put it all together at the end.
I do want to hear from you if you set up these sequences!
If you enjoyed this article won't you please:
Thanks!
Related Articles: