Advanced Course: International Evil - 20-Apr-2011
21 Apr 2011Steve Schwarz
I've been playing around with more International style courses lately and came up with this course primarily to work on Back Side Handling the Quad Back Side - Patrick Bucher Course/VideoThe Connection Between Threadles and Back SidesBack Side/Back Side JumpBack Side of Jump Handling Combinations - Video to 180 handling. I was inspired by a recent Dan Butcher JWW course that featured this element. The rest of the course is the usual mix of Jump Wraps Jump Wrap Handling TipsJump Wrap/WrapJump Wrap Handling - With Video, etc. with a bunch of off course "opportunities" on an otherwise pretty open course. It was a chance for my students to see that International elements aren't evil!
Course Setup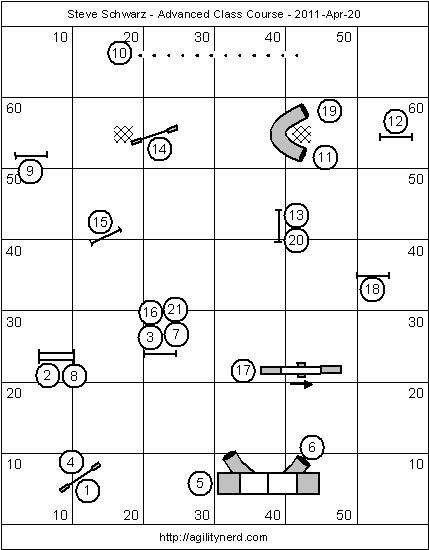 If you are working in a small space just set up 1-8. That's what I used with my Intermediate group to get them more fluid with the handling. You could replace the A Frame with a jump to get your dog to the far side of the tunnel.
I'll come back and post more handling notes later - for now can you come up with four ways to handle 6-7-8?
If you enjoyed this article won't you please:
Thanks!
Related Articles: