Advanced Class Course: Easy Peasy Fast and Breezy!
28 Jul 2011Steve Schwarz
This course was a fun one and kept the dog and handler moving. It let teams work on On and Off Side Weave Entries, Jump Wraps Jump Wrap Handling TipsJump Wrap Handling - With VideoJump Wrap/Wrap, and Threadles Mary Ellen Barry on Threadle HandlingThe Connection Between Threadles and Back SidesSingle Sided Threadle HandlingTraditional Threadle HandlingThreadle Sequence. We had a little time at the end of the class and ran the black circles to work on Rear Crossing Learning the Rear CrossRear Cross the approach to the weaves or Pushing on the last pole.
For my intermediate class we worked on the 1-16 and then on the black circles 1-6. I've been teasing that class that they'll only work weaves on their right side for the rest of this training session…
Course Setup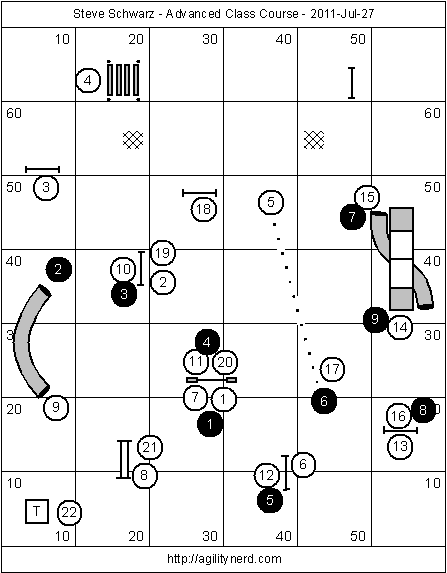 Obstacle Legend
Here are some quick notes on how you might handle it (white circles):
This was a fast and fun one, give it a try and please let me know how you did!!!
If you enjoyed this article won't you please:
Thanks!
Related Articles: