Class Course: Wrap Your Head Around This
03 Aug 2011Steve Schwarz
My course from last night at For Your K-9 is on the more technical side featuring Serpentines Serpentine Handling TechniquesSerpentine Sequence, Threadles Mary Ellen Barry on Threadle HandlingThe Connection Between Threadles and Back SidesSingle Sided Threadle HandlingTraditional Threadle HandlingThreadle Sequence and a generous helping of Jump Wraps Jump Wrap Handling TipsJump Wrap Handling - With VideoJump Wrap/Wrap. It ran fast and smoothly for handlers driving ahead giving timely cues…
Course Setup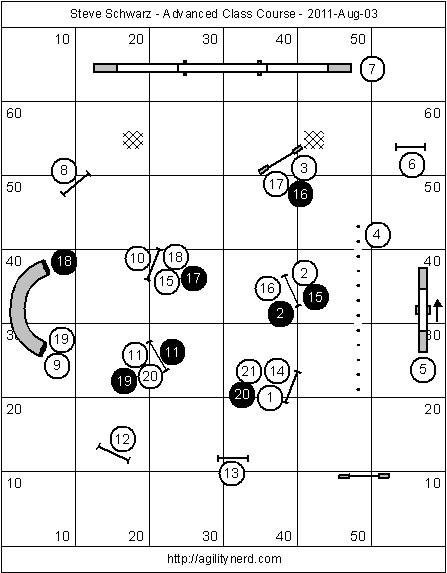 I had my Intermediate group run 1-13 so they could get some contact work in and we could refresh their Serpentine and Threadle handling skills. The Advanced class ran the whole course and both groups ran the white and black variations. There was some grumbling about 14-18 but after the second run everyone was making it look beautiful.
Here are some handling thoughts:
1-3 dog on handler's left as a Single Sided Serpentine and Front Cross Learning the Front Cross - VideoFront Cross the weave approach
or 1-3 dog on handler's right and Rear Cross Learning the Rear CrossRear Cross on the flat before 3. This gives some good practice opportunities:

Rear Cross the weave approach
drive in to still get the Front Cross before the weaves
Front or Rear Crossing the end of the weaves

Dog on right around to the end of the dog walk
Front Cross the exit and drive forward to show motion past the off course tunnel entrance or Shoulder Pull Learning the Post TurnPost Turn/Shoulder Pull/Pivot Turn and Rear Cross once past the off course tunnel.

Single Sided Threadle

either rotating forward and Rear Crossing on the flat before 12 or stay moving backward over 11 and Shoulder Pull around 12.
Get moving and Front Cross Jump Wrap 14 and 15
Drive forward and Shoulder Pull around 16 dog on right
Front Cross Jump Wrap of 17 kept dogs from going wide and gave them a better line to 18. Alternately, "throw"/send the dog to 17 so they jump collected and shoulder pull to 18.
Handler either side of jump 18 and either side of 20 worked just as well.
This was a good one! I hope you try it and report back.
If you enjoyed this article won't you please:
Thanks!
Related Articles: