Some Fun Challenges to Practice
21 Jan 2015Steve Schwarz
Here's a full size and small space version of last night's class course containing: Serpentines, Back Sides Handling the Quad Back Side - Patrick Bucher Course/VideoThe Connection Between Threadles and Back SidesBack Side/Back Side JumpBack Side of Jump Handling Combinations - Video, Jump Wraps Jump Wrap Handling TipsJump Wrap Handling - With VideoJump Wrap/Wrap and challenging weave entrances. My Intermediate group ran white circles 1-18 and my Masters students ran 1-24 with the black variations. Here is the full size course (as best I could remember it; use your common sense when setting up courses so they are safe for your dogs).
Here's a smaller version appropriate for smaller spaces: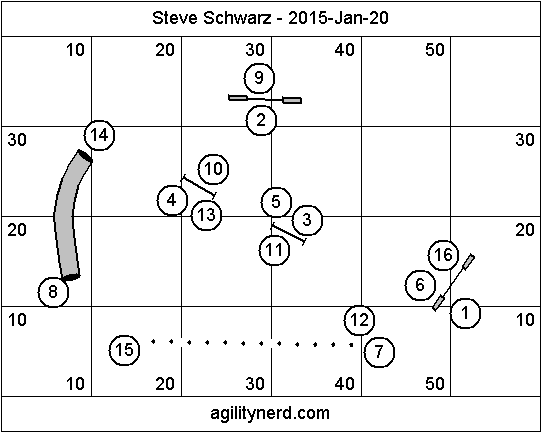 For even more challenges you can also change one, two, or three of the Serpentines to be two or even three jump Threadles Mary Ellen Barry on Threadle HandlingThe Connection Between Threadles and Back SidesSingle Sided Threadle HandlingTraditional Threadle HandlingThreadle Sequence.
Here are some handling thoughts for the large sequences to get you going:
Dog on right 1-3 (even if pushing to the back side of 3) and Blind or Front Cross Learning the Front Cross - VideoFront Cross to put the dog on your left to the tunnel.
Which way to turn the dog on the wrap at 5? Which is easier for you? Which is faster for your dog?
Can you handle 7-8-9 with the jumps on your right and on your left? I hope you can!
Rear Cross Learning the Rear CrossRear Cross or Ketschker 9?
Can you support 12 by running from the weaves exit straight through the gap between 7/8?
Can you handle 13-14-15 with the jumps on your right and on your left?
Blind Cross or Front Cross while your dog is approaching the back side of 18 to put your dog on your left 18-19?
On the smaller course:
What if you make 2 the Back Side of the jump?
What if you change the start jump to be the tunnel?
I hope you give this one a try. There was some grumbling before running it; but everyone was smoking it by the end of class!
If you enjoyed this article won't you please:
Thanks!
Related Articles: