Four Backyard Sequences - Serpentines, Threadles and 180s
30 Oct 2009Steve Schwarz
A couple weeks ago Meeker and I were at to For Your Canine for a CPE trial and the Jumpers course had a section that I thought would make for good practice sequences. The judge was Carol Steffus-Hyland and the courses were nice and flowing. Although the course was straightforward, somehow Meeker went behind me on one of the 180s and took and off course…
Here is the segment of Carol's course I extracted, I added the angled jump in the top right hand corner to allow for other possibilities: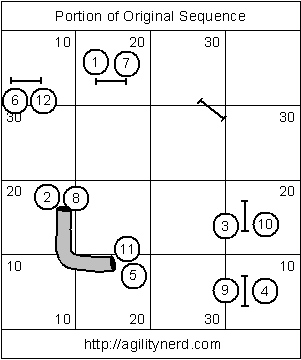 Here are three other sequences I created that allow you to work on Serpentine Serpentine Handling TechniquesSerpentine Sequences, Threadle Mary Ellen Barry on Threadle HandlingThe Connection Between Threadles and Back SidesSingle Sided Threadle HandlingTraditional Threadle HandlingThreadle Sequences, Jump Wraps Jump Wrap Handling TipsJump Wrap Handling - With VideoJump Wrap/Wrap, and 180s on both sides of the handler: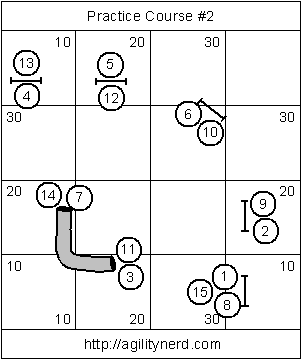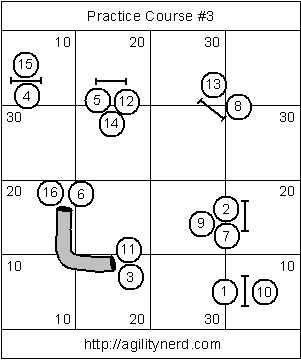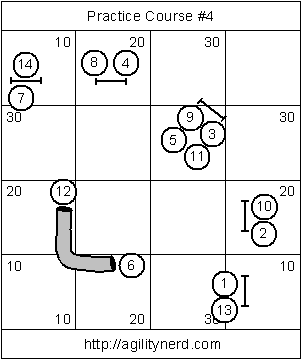 Video
With the shortening of the days as we head into Fall, the only time I was able to train or shoot any video was if I went into work a little late… So the video is a little dark (I played with the brightness and contrast to try to punch it up a little). To make matters worse it seems like it has been raining here every day for a couple weeks so my backyard is pretty muddy. So while I'm not moving too quickly in the video hopefully you'll get a couple ideas on how I chose to handle these sequences:
Please let me know if you gave these a try and how you handled it!
If you enjoyed this article won't you please:
Thanks!
Related Articles: