Class Course - 11-Nov-2009
12 Nov 2009Steve Schwarz
Here's a technical-ish class course I invented last night at For Your Canine that works Threadles Mary Ellen Barry on Threadle HandlingThe Connection Between Threadles and Back SidesSingle Sided Threadle HandlingTraditional Threadle HandlingThreadle Sequence, Jump Wraps Jump Wrap Handling TipsJump Wrap Handling - With VideoJump Wrap/Wrap and weave entries.
Course Setup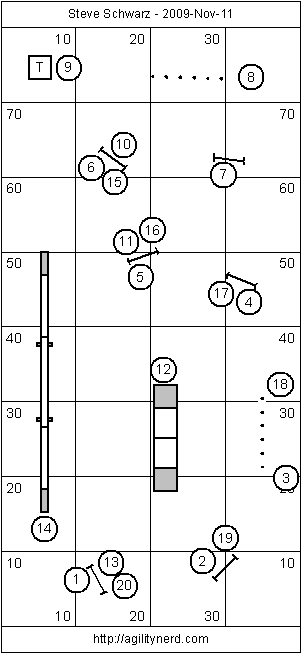 Here's the most successful handling we came up with for the first 9 obstacles: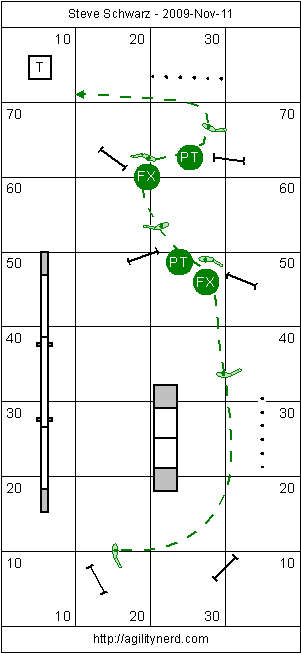 So it was dog on the handler's right with or without a

Lead Out

at the start line.
For the On Side Weave Entry some dogs needed their handlers to get a head check to make certain they didn't enter the weaves past pole 1
Some handler's tried to Rear Cross Learning the Rear CrossRear Cross from 4-5 but that put them too far behind to negotiate 6-7. So the Front Cross Learning the Front Cross - VideoFront Cross Jump Wrap to Post Turn/Shoulder Pull Learning the Post TurnPost Turn/Shoulder Pull/Pivot Turn was much more successful
Repeat the Front Cross Jump Wrap to Post Turn/Shoulder Pull from 6-7
Some dogs will need their handlers to push a little and/or assist the weave entry.
From the table it was easier to run with the dog on the handler's right coming from the table to the A Frame. Starting with dog on left some dogs (Meeker included) didn't see taking jump 10 depending on the handler's lead out location.
Then either Rear Cross on the approach to the A Frame or Front or Rear Cross (if you have a stopped A Frame or a slower dog) at the end of the A Frame.
Here's the handling after the dog walk: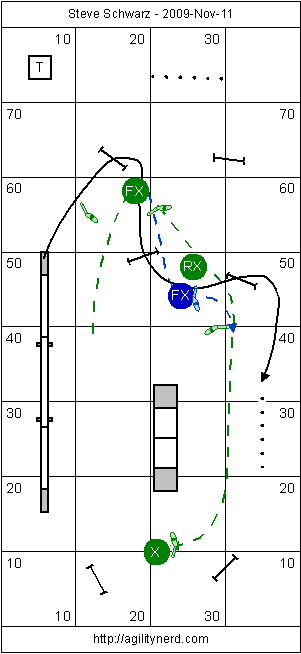 Once again the Front Cross Jump Wrap over jump 15 was the best choice
Then depending on the handlers/dog speed either a Rear Cross over jump 17 (shown in green) or a Front Cross and push over jump 17 (shown in blue).
At the X between jumps 19 and 20 a verbal and/or a little deceleration was needed to bring some dogs back in to take the final jump
My students weren't too happy with this course when they walked it… But after running it they all did a really nice job.
If you enjoyed this article won't you please:
Thanks!
Related Articles: