Big/Small AKC NAC Inspired Course & Sequences
22 Mar 2013Steve Schwarz
My class course this week was inspired by the 180 jump to weave entrance in last weekend's AKC NAC Hybrid round course and I came up with several 40' x 40' sequences for folks with small spaces. This course works a wide range of skills and there is even a spot where the adventurous can play with a Blended Front Cross to Ketschker.
Here's the full size course:
Full Course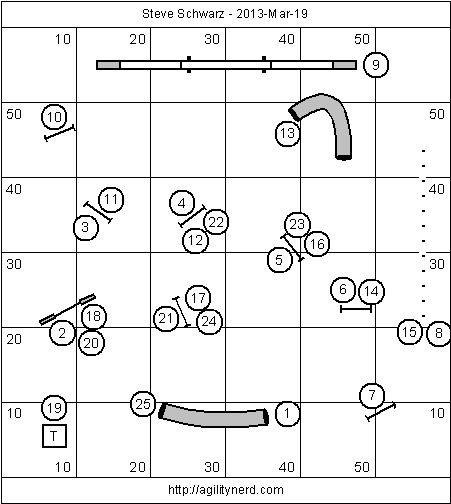 Obstacle Legend
Some set up notes:
As usual, this drawing is from my memory so adjust as desired for safety and challenge level.
You want the end of the weaves, end of the tunnel, and jump 16-17 to be arranged so there is enough room for you to run dog on left 16-17.
The 270 from 11 to 12 should be wide and make the distance from 4-5 pretty much a bounce stride for large striding dogs.
Adjust 14 to make the weave approach as difficult as you like.
Here are some handling suggestions:
Dog on left 1-5 at least. Once you get your dog committed to 3 get moving down the line - no spectating!
6-7-8 at least three options:

dog on left and

pull

dog to 7 and Rear Cross Learning the Rear CrossRear Cross take off side of 7.
front/blind cross over 6 and Shoulder Pull dog to weaves
blended front cross over 6 to Ketschker over 7

Give the dog a safe approach to the dog walk. if you have more room shift the dog walk down.
Dog on right through 11 - large striding dogs may bypass 11... watch the dog's line.
Support back side of 12 and either shoulder pull/rear cross the landing of 12 or (preferably) front cross over jump 12 to have dog on left going in to 13.
I prefer the Rear Cross on the take off of 14 to turn the dog to 15 (and it's good practice anyway). Crossing (front/blind) on the approach to 14 and then shoulder pulling through the 180 will work and may be best for dogs who need a better weave pole approach. Depending on the distance from 14 to 15, a Ketschker over 14 can work also.
Front cross the exit of the poles and handle 16-17 dog on left.
Rear Cross the take off of 18 to turn the dog to the table.
Front cross jump wrap 20 and again at 21 - dog on left to 22. OR... turn the dog left over 20 to get a better line toward 22(?)
I like the front cross again over 23 to have dog on right to the end. But a shoulder pull through the 270 to a rear cross on the take off of 14 can work - but seemed slower in practice.
Just as I do for my students, I urge you to try multiple handling approaches on this sequence!
Backyard/Small Space Sequences
I made the bottom left section the course above into a smaller sequence that focuses on shallow angle approaches to jumps, along with a bunch of handling options. The difficulty varies between the sequences and I'll leave the handling up to you:
Sequence 1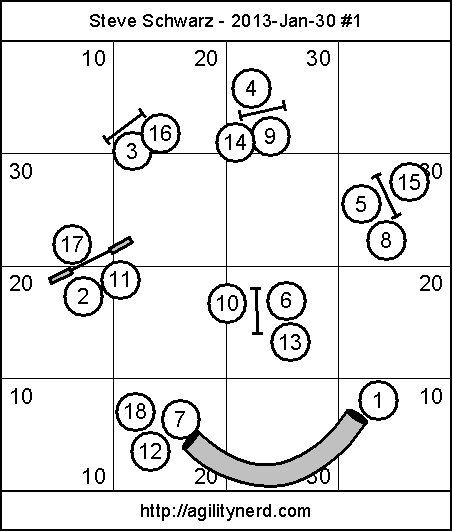 Sequence 2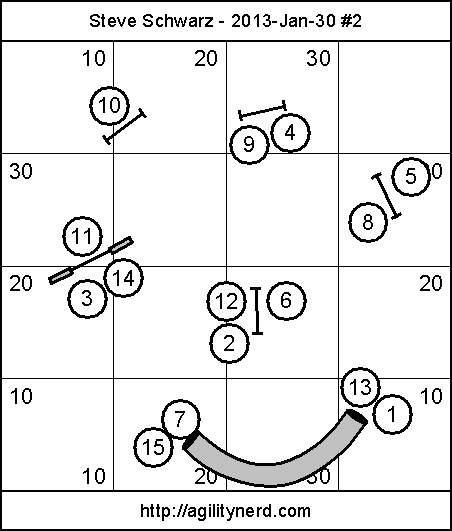 Sequence 3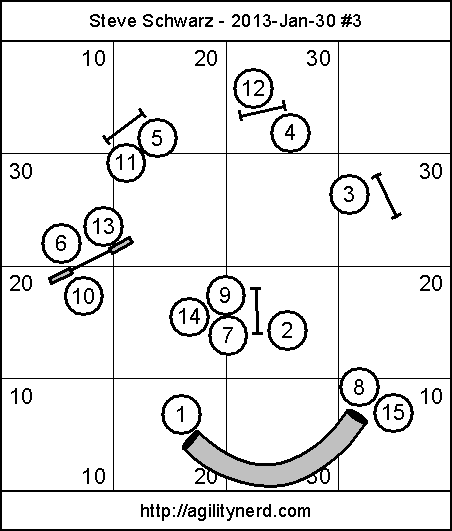 I hope you find time to set up this course or sequence(s). I do want to hear from you if you try them out!
If you enjoyed this article won't you please:
Thanks!
Related Articles: