Challenging Full Size Course
03 Dec 2012Steve Schwarz
I came up with this interesting course with a couple challenging sections for class this past week. There are Threadles Mary Ellen Barry on Threadle HandlingSingle Sided Threadle HandlingThe Connection Between Threadles and Back SidesTraditional Threadle HandlingThreadle Sequence, Back Sides Handling the Quad Back Side - Patrick Bucher Course/VideoThe Connection Between Threadles and Back SidesBack Side/Back Side JumpBack Side of Jump Handling Combinations - Video, Pin Wheels, 270 Back Side Entry to 270/Training Opportunity - Video270 Degree Jump SequenceHandling 270 Degree Jump Sequencess, etc.
Class Sequence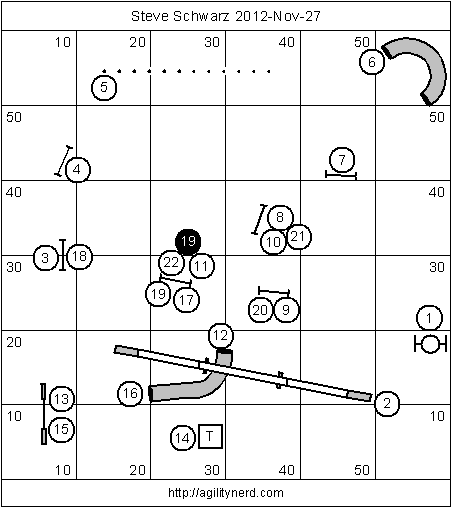 Obstacle Legend
Here are a few handling notes/challenges
This was a fun one!!
If you enjoyed this article won't you please:
Thanks!
Related Articles: